What Makes Post-Frame Steel Buildings in Wyoming So Strong?
Post-frame steel buildings in Wyoming are an excellent choice if you need stout agricultural buildings in Wyoming that can resist foul weather. Although many people assume that steel-frame buildings are the strongest available option, you may be surprised to learn that post-frame buildings can be just as strong as steel-frame buildings or even stronger. Well-designed post-frame metal buildings in Wyoming are surprisingly robust and weather resistant.
#1 – Laminated Wood Posts
The best post-frame steel buildings in Wyoming are constructed with laminated wood posts. These are made from multiple pieces of high-grade lumber, making them much stronger than traditional solid boards. This creates a post that is not only extremely strong but also resistant to shrinking and expanding due to changes in temperature and humidity.
#2 – Heavy Gauge Steel Panels
The best post frame steel buildings in Wyoming are also constructed with heavy gauge exterior steel panels. This means that the panels used for these structures are made from high-quality materials, creating a building that is much more resistant to wear and tear than other methods. Additionally, the heavy steel exterior makes post frame builds much more durable and long-lasting.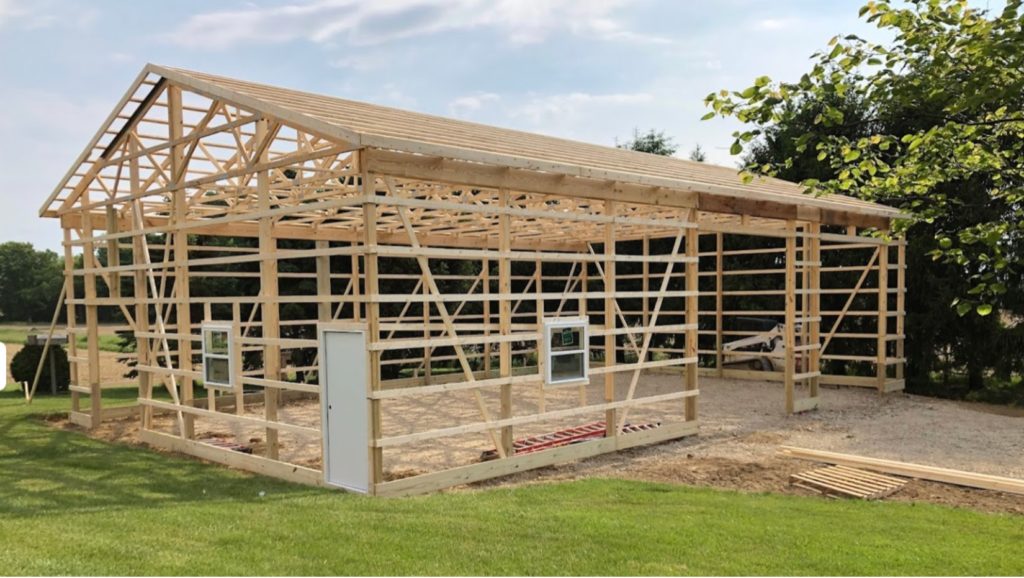 #3 – Vertical Posts Buried Deep in the Ground
Post-frame metal buildings in Wyoming also feature vertical posts that are buried deep into the ground. This creates a solid connection between the post and the soil, which allows post-frame buildings to withstand extreme winds, rain, and snow.
Pole barn builders in Wyoming always use heavy-duty roof trusses. The high grade of materials used for these trusses makes post-frame builds much more resistant to the elements, such as hail and high winds. This makes your post frame barn or garage in Wyoming one of the most robust and reliable forms of agricultural building available.
#5 – The Best Builders in the Business
The best post-frame agricultural buildings in Wyoming are constructed by the best and most experienced builders in the business. This helps ensure that your post-frame build is done correctly and with the highest quality materials available, making it one of the strongest structures you can find.
#6 – Time-Tested Design
Post-frame buildings have been around for centuries and have been favored by farmers in the United States for over a hundred years. This tried-and-true design ensures that new post frame steel buildings in Wyoming are reliable and strong, making them an ideal choice for agricultural buildings.
#7 – Screw-On Siding
The best post frame buildings feature screw-on siding. This makes them much more secure, as the screws help connect panels and trusses tighter than with nails. Additionally, post-frame builds that use screw-on siding are more resistant to high winds and other weather events.
We have you covered if you are interested in a garage hobby shop in Wyoming or a traditional pole barn. When you are ready to start, we can work with you to ensure you get the barn or other building you need.
MQS is a family-owned and operated company specializing in post-frame, steel-sided structures. The co-founder and co-owner of MQS Barn, Mark Stoltzfus, began his building career with his Amish Mennonite family and applies the same work ethic and expert craftsmanship on every project we do.
Call us today at 855-677-2276, or contact us online to receive a free quote on your next project. We look forward to hearing from you soon!