A metal building in Cody, WY is a great way to store large items and materials that can't fit inside your home or other outdoor spaces. Metal buildings in Cody come in all shapes and sizes and can be customized with different features and amenities, so they are a great solution for just about any storage situation. Let's look at what you can store inside a metal building.
Store Garden Supplies and Equipment Inside Metal Buildings in Cody
If you're an avid gardener, you know how hard it is to find enough space for all your tools, supplies, seedlings, etc. But with a metal building, there's plenty of room for everything. From wheelbarrows to lawn mowers and even potting soil, you can store it all in one convenient location. And since steel buildings in Cody are generally well-ventilated, you don't have to worry about mildew or rust taking over your garden supplies.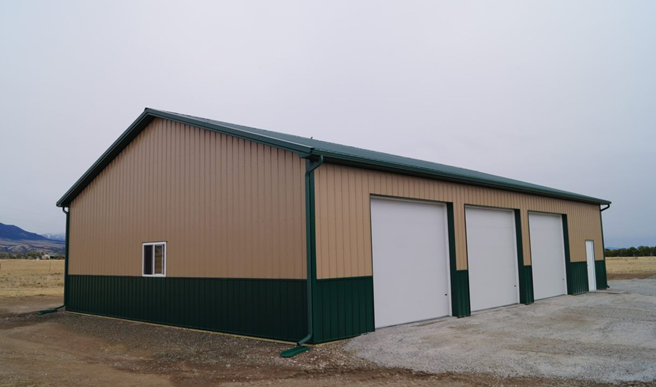 Protect Your Sports Gear Inside Metal Buildings in Cody
Whether you're an avid sports enthusiast or have kids who play sports year-round, having extra storage for equipment is always helpful. From baseball bats and hockey sticks to basketballs and footballs—you name it—you can easily store it in your metal building. Plus, since metal buildings are typically weatherproofed, you won't have to worry about moisture damaging any of your gear while it's stored away.
Keep Vehicles Safe and Clean Inside Metal Buildings in Cody
From classic cars to ATVs and motorcycles, metal buildings provide the perfect place to store your vehicles while they're not in use. Not only do they keep the elements out (like snow during the winter months), but they also give you added peace of mind knowing that no one can access them without permission since steel buildings in Cody are typically lockable from the outside.
Use Metal Buildings in Cody for Hay Bale Storage
After bailing hay all summer in preparation for winter, don't forget, you'll need a place to store it. A metal building can provide great storage for your hay bales and keep it protected. Elements like excessive sunlight and rain can lessen the quality of your hay. Should the hay get wet, mold and mildew can develop, which can cause your livestock to get sick if consumed. If space allows, store your hay bales inside your metal building to keep it the highest quality possible.
Steel buildings in Cody provide an ideal solution for storing items that won't fit elsewhere around your home or yard. From gardening tools and sports gear to vehicles and more—metal buildings offer plenty of protection from both weather elements as well as potential theft or vandalism. So if you need some extra space for storing large items securely—consider investing in a metal building! It could be just the solution for all your storage needs!
MQS Barn – We Can Build Your New Custom Pole Barns in Cody
MQS is a family-owned and operated company specializing in post-frame, steel-sided structures, and custom post-frame buildings. We have you covered if you need custom horse barn builders in Cody. When you are ready to start, we can work with you to ensure you get the building you need.
Are you looking for Amish barn builders in Cody? The co-founder and co-owner of MQS Barn, Mark Stoltzfus, began his building career with his Amish Mennonite family and applies the same work ethic and expert craftsmanship on every project we do.
Call us today at 406-642-9600, or contact us online to receive a free quote on your next project. We look forward to hearing from you soon!