As the sun shines brightly over Sandpoint, Idaho, and the temperature rises, it's crucial to prioritize the upkeep of your barn or garage in Sandpoint. Summertime may just be the best time of year to check some of these important tasks off your list.
The summer months bring unique challenges and maintenance needs for barn and garage owners, ensuring the comfort and safety of your animals and the longevity of your structure. In this article, our team of pole barn builders in Sandpoint will discuss essential tasks that should be on your summer barn/garage maintenance checklist in Sandpoint, ID.
.
Inspect and Clean Your Barn or Garage in Sandpoint; Especially the Roof and Gutters
Start your summer barn maintenance routine by inspecting and cleaning the roof and gutters. Check for any signs of damage, loose shingles, or leaks.
Next, clear any debris, leaves, and branches from the gutters to prevent water accumulation, which can lead to water damage and deterioration. Addressing roof issues promptly will protect your barn or garage in Sandpoint from potential leaks during heavy summer rains and ensure a safe and dry environment for your animals.
.
Our Pole Barn Builders in Sandpoint Recommend Checking and Repairing Fencing
Inspect the fencing around your barn or garage to ensure they are secure and in good condition. Summer weather conditions can weaken fences, and regular maintenance is essential for keeping your animals safely contained.
Replace any broken boards, tighten loose wires, and fix damaged gates. Additionally, check for any gaps or openings that could allow predators to enter. Maintaining sturdy and secure fencing will provide peace of mind and ensure the safety of your animals inside your pole barn or garage.
.
.
Maintain Ventilation and Cooling Systems Inside Your Barn or Garage in Sandpoint
Summer heat can be challenging for barn animals, making proper ventilation and cooling crucial. Check and clean all ventilation systems, including fans, vents, and louvers, to ensure they are functioning effectively. Clear away any obstructions such as cobwebs, dirt, or debris.
If your barn has a cooling system, such as evaporative cooling or misting fans, ensure they are in proper working condition and schedule any necessary maintenance or repairs. Adequate ventilation and cooling systems will help regulate temperature and airflow, keeping your animals comfortable and healthy.
.
Address Pest Control Inside and Out
Summer brings an increase in pests, such as flies, mosquitoes, and rodents, which can be detrimental to your barn or garage's cleanliness and animal health. Implement a comprehensive pest control plan to mitigate infestations. Clean manure regularly, as it attracts flies and other insects. Consider installing fly traps or using natural repellents to keep the fly population under control.
If your structure is used as a garage hobby shop in Sandpoint, be sure to seal any cracks or openings that may provide entry points for rodents. Regular pest control measures will ensure a sanitary environment and minimize the risk of disease transmission.
.
Monitor and Maintain Water Sources to Your Barn or Garage in Sandpoint
Regularly inspect and maintain your barn's water sources, including troughs, automatic waterers, and plumbing systems. Clean water containers to prevent the growth of algae and the accumulation of debris.
Check for leaks, dripping faucets, or damaged pipes, as these can waste water and increase the risk of flooding or structural damage. Proper hydration is vital for your animals' health and well-being, and maintaining clean and functioning water sources is crucial to achieving this.
.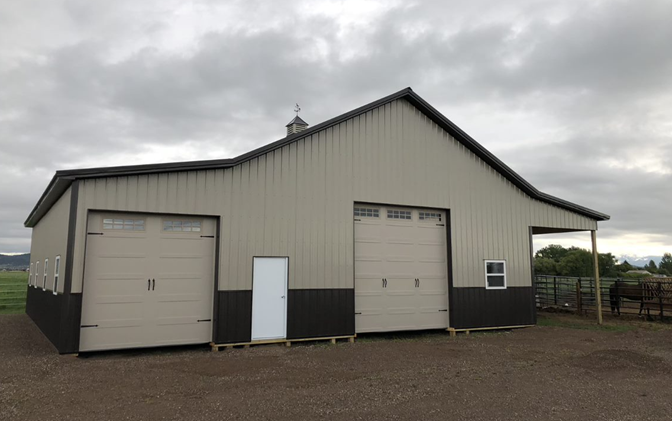 .
Our Pole Barn Builders in Sandpoint Suggest Routine Equipment Maintenance
Summertime is an excellent opportunity to perform routine maintenance on your barn equipment. Inspect and clean tools, such as pitchforks, shovels, and wheelbarrows. Sharpen blades on mowers, trimmers, and other powered equipment.
Check the condition of electrical wiring and outlets in the barn, ensuring they are in safe working order. Regular equipment maintenance will increase their lifespan and ensure their reliability when you need them most.
.
Evaluate and Refresh Bedding Inside Your Barn or Garage in Sandpoint
Evaluate the condition of the bedding in your barn, such as straw, shavings, or mats. Remove soiled bedding and replace it with fresh material. Bedding plays a vital role in providing a comfortable and clean environment for your animals.
Consider using absorbent materials that offer good insulation and help control odors. Refreshing bedding regularly will enhance animal comfort, reduce the risk of hoof and leg issues, and maintain overall cleanliness within the barn.
As one of the top pole barn builders in Sandpoint, our team at MQS Barn knows that proper summer upkeep is essential for the well-being of your barn, animals, and equipment in Sandpoint, ID. By following a comprehensive maintenance checklist, you can ensure a safe, comfortable, and functional environment for your animals while protecting the longevity of your barn structure.
It is critical to focus on inspecting & cleaning the roof & gutters, maintaining fencing, and addressing ventilation & cooling systems. Other important tasks include implementing pest control measures, monitoring water sources, performing routine equipment maintenance, and evaluating and refreshing bedding for all animals that live inside the structure.
Regular attention to these tasks will help you identify and address potential issues early on, preventing costly repairs and ensuring the smooth operation of your barn or garage in Sandpoint. By investing time and effort into proper summer maintenance, you can enjoy the season knowing that your barn is in optimal condition and ready to withstand the challenges that Sandpoint's summer may bring.
.
MQS Barn – Your Source for a New Custom Garage in Sandpoint
MQS is a family-owned and operated company specializing in post-frame, steel-sided structures, and custom post-frame buildings. We have you covered if you need custom horse barn builders in Sandpoint or any other type of agricultural building. When you are ready to start, we can work with you to ensure you get the building you need.
Are you looking for Amish barn builders in Sandpoint? The co-founder and co-owner of MQS Barn, Mark Stoltzfus, began his building career with his Amish Mennonite family and applies the same work ethic and expert craftsmanship on every single project.
Call us today at 406-642-9600, or contact us online to receive a free quote on your next project. We look forward to hearing from you very soon!