Post-frame metal buildings in Montana are simple, robust, and affordable. Post-frame design is an excellent choice for almost any building you need. Check out why post-frame steel buildings in Montana are so awesome.
Post-frame metal buildings in Montana are designed to endure harsh weather conditions. The sturdy wood frames and insulation protect against strong winds, heavy snowfall, and intense storms. The roof is typically made with galvanized steel, which resists corrosion from the natural elements. This makes them ideal for outdoor storage units or commercial businesses needing extra security.
Post-frame structures are one of the most affordable options when you need a new building. They also require minimal upkeep over time compared to traditional brick and mortar buildings, allowing for more savings later.
Post-frame metal buildings in Montana are incredibly versatile and can be customized to fit any home or business's needs. They can be designed to accommodate specific functions like garages, offices, or workshops.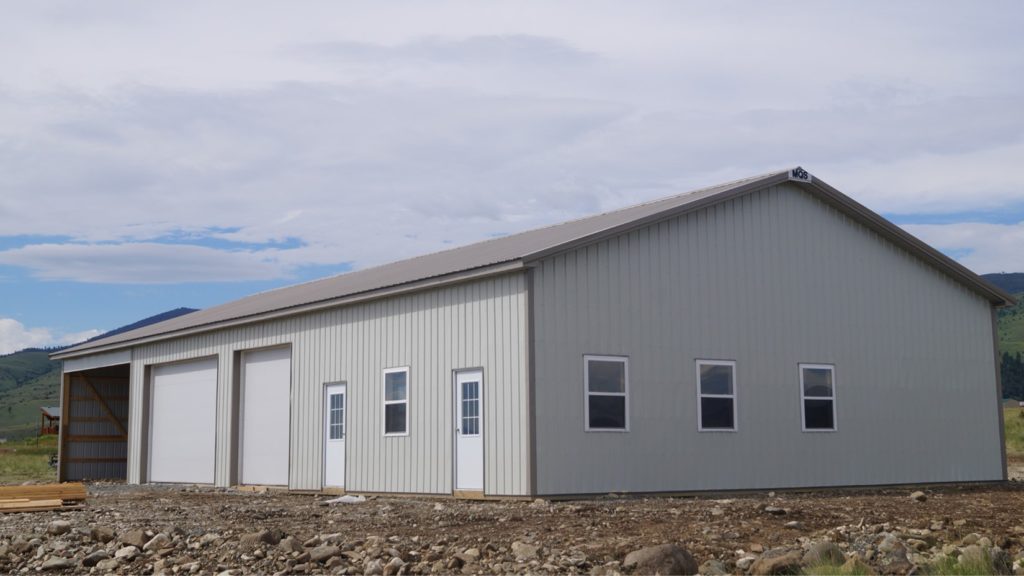 Post-frame buildings offer superior durability compared to other construction methods. The wood frames and insulation provide extra protection from the elements without requiring excessive maintenance. Plus, these structures require minimal upkeep over time. This allows them to last longer than traditional brick and mortar buildings, saving home and business owners money in the long run.
Reason #5 – Post-Frame Buildings are Eco-Friendly.
Post-frame metal buildings are designed with environmental sustainability in mind. They are built with renewable wood frames and recyclable steel shells.
Post-frame metal buildings can be constructed relatively quickly compared to other types of buildings. This is because they are generally made with some prefabricated materials, which can be quickly assembled onsite. Plus, post-frame metal buildings require minimal tools and labor to construct, making them the perfect option for those who need a structure up fast.
Reason #7 – Post-Frame Buildings Require Minimal Maintenance.
Post-frame buildings require minimal upkeep. The durable materials used to construct them are designed to withstand the elements and can last years without major repairs. This makes them an excellent option for those who want to save money and avoid costly repair bills.
A post-frame garage hobby shop in Montana is an excellent choice for those who want a sturdy, affordable, and low-maintenance structure. With their durability and versatility, post-frame structures can easily withstand the elements while providing the perfect space for residential or commercial projects. Plus, with minimal upkeep required over time, they offer great value for anyone looking to save money.
We have you covered if you want new agricultural buildings in Montana. When you are ready to start, our team of professional barn builders can work with you to ensure you get the building you need.
MQS is a family-owned and operated company specializing in post-frame, steel-sided structures, and custom pole buildings in Montana. The co-founder and co-owner of MQS Barn, Mark Stoltzfus, began his building career with his Amish Mennonite family and applies the same work ethic and expert craftsmanship on every project we do.
Call us today at 855-677-2276, or contact us online to receive a free quote on your next project. We look forward to hearing from you soon!