Post frame steel buildings in Wyoming will last longer and work better if constructed on a carefully prepared building site. Don't underestimate the importance of site preparation for your new post-frame metal buildings in Wyoming. Follow these tips from experienced barn builders.
Site Preparation Tip #1 – Choose a Relatively Level Site Whenever Possible:
Post-frame steel buildings in Wyoming requires a level surface for construction. Choose a site that requires minimal leveling. The site should be free from rocks, roots, and other debris that could disrupt the construction process.
Site Preparation Tip #2 – Establish Proper Drainage for Your Post-Frame Steel Buildings in Wyoming:
Proper drainage should be established before the site preparation process begins. Installing a perforated drain line is beneficial for redirecting surface water away from the building's foundation and preventing ground saturation. Gutter downspout extensions should also be installed to direct water runoff away from the building.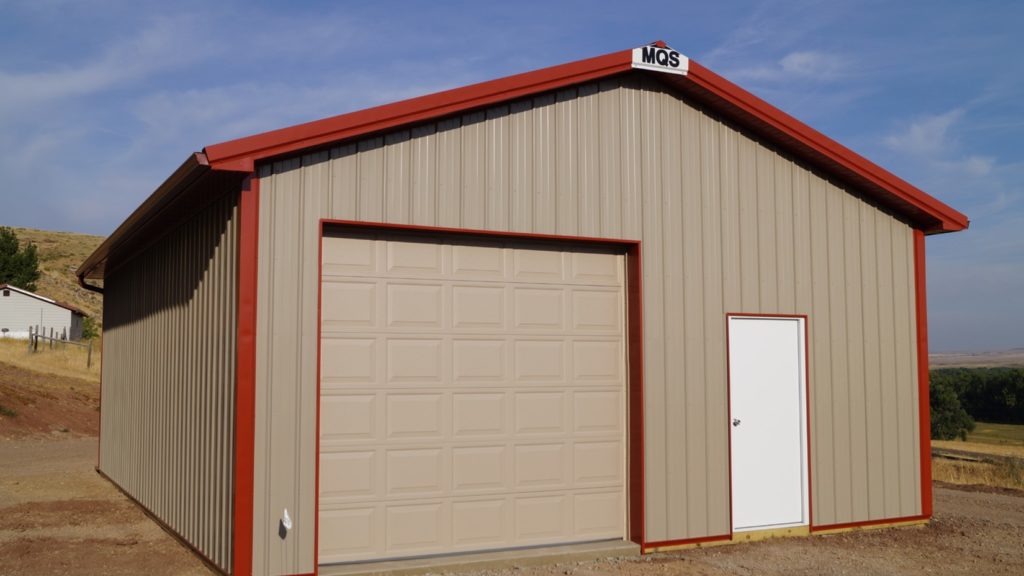 Site Preparation Tip #3 – Utilize a Soil Compaction Method:
Soil compaction is an important part of the site preparation process. It helps to strengthen the soil and prepare it for building. Various soil compaction methods can be used, such as tamping with a hand tamper, vibratory compaction, or roller.
Site Preparation Tip #4 – Compensate for Atmospheric Conditions:
Post-frame steel buildings in Wyoming are built outside all year long. Be prepared for any weather that comes along. This includes keeping an eye on local weather forecasts to ensure that rain or other inclement weather won't disrupt the project and that the soil is adequately dry before construction begins.
Site Preparation Tip #5 – Secure Necessary Permits for Your Post-Frame Steel Buildings in Montana
Before you begin the site preparation process for your garage hobby shop in Wyoming, make sure that you have all of the necessary permits and approvals from the local building authority or permit office. This will help prevent potential legal issues and ensure the project is done according to local ordinances.
Site Preparation Tip #6 – Consider the Orientation of Your Post-Frame Steel Buildings in Wyoming
The orientation of your post-frame building should be considered before the site preparation begins. Think about how you want the structure to face in relation to the sun and any areas or features. Consider things like access to the building, potential shading issues, and sun exposure for interior spaces that may be used.
Site Preparation Tip #7 – Plan Access for Your Post-Frame Metal Buildings in Wyoming:
When planning the site preparation process, you should consider how your farm buildings in Wyoming will be accessed. Ensure there is room for vehicles, forklifts, and construction equipment to access the building. Also, consider how people will enter the building and if safe walkways or ramps are needed.
Site Preparation Tip #8 – Consider Local Wildlife:
Consider any local wildlife when selecting a site for post-frame steel buildings in Wyoming. Ensure that the building is placed in a location that won't disrupt the local wildlife habitat and keep safety hazards at a minimum.
MQS Barn – We Can Build Your New Metal Buildings in Wyoming
We have you covered if you want a new pole building in Wyoming, a new barn, or a workshop. When you are ready to start, we can work with you to ensure you get the barn you need.
MQS is a family-owned and operated company specializing in post-frame, steel-sided structures, and other custom structures. The co-founder and co-owner of MQS Barn, Mark Stoltzfus, began his building career with his Amish Mennonite family and applies the same work ethic and expert craftsmanship on every project we do.
Call us today at 855-677-2276, or contact us online to receive a free quote on a new pole building shop in Wyoming. We look forward to hearing from you soon!