Post-frames metal buildings in Wyoming are excellent for families, small businesses, and hobbyists needing extra space. However, making the most of post-frame steel buildings in Wyoming requires careful use of the space. Follow these tips to get your barn, shop, or garage organized.
Tip #1 – Analyze Your Needs Before You Start Organizing Your Metal Buildings in Wyoming
Before you start organizing your post-frame metal buildings in Wyoming, make sure to analyze your needs. Do you need extra storage space or an area to set up a workshop? Knowing what you want to accomplish will help you decide how best to organize the inside of the building and determine any additional supplies that may be needed.
Maximize the use of wall space in your post-frame steel building by installing shelves, peg boards, and racks. These components take advantage of the vertical space to provide additional storage options. You can also organize items on the walls with hooks and hangers that secure objects in place.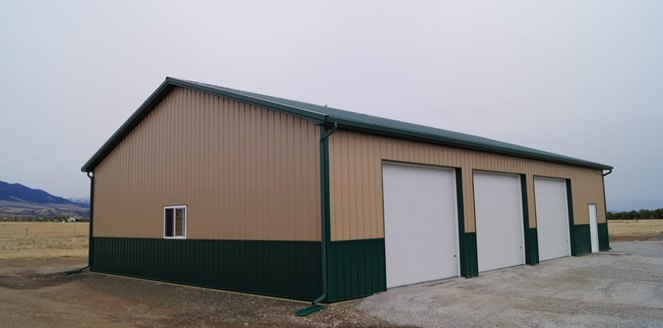 Tip #3 – Designate Zones
Create designated zones in your post-frame metal buildings in Wyoming. A work area, storage shelves, and benches can be easily outlined with tape or paint to help you visually separate them from one another. Having a system of organization will make it easier to find items when needed.
Tip #4 – Invest in Quality Shelving for Your Metal Buildings in Wyoming
When selecting shelving for your post-frame steel buildings in Wyoming, purchase quality materials that are strong and durable. Consider adjustable shelves to allow for more flexibility in organizing items of different sizes. Shelves can also make it easier to reach objects stored in higher places.
Tip #5 – Consider Mobile Work Carts and Flexible Spaces
Mobile work carts and flexible spaces are perfect for post-frame metal buildings in Wyoming. They help to maximize the space inside the building by freeing up floor area when not in use. Mobile work carts can also be easily moved around as needed in multiple areas of the building.
Tip #6 – Take Advantage of Overhead Space
Make use of the overhead space available in your pole building in Wyoming. Installing sturdy hooks and pulleys can help store items such as ladders, bicycles, or other objects used infrequently. Overhead storage is an excellent option for freeing up floor area while keeping important items within easy reach.
Tip #7 – Get Rid of Unnecessary Items in Your Metal Buildings in Wyoming
Once you have identified the items you need to store in your post frame building in Wyoming, eliminate any unnecessary objects. This will help to ensure that all essentials have a designated space and can be easily located when needed.
These tips can help you create the safest and most organized post-frame steel building in Wyoming.
We have you covered if you want a new barn or pole building shop in Wyoming. When you are ready to start, we can work with you to ensure you get the barn you need. MQS is a family-owned and operated company specializing in post-frame, steel-sided structures, and other custom structures. The co-founder and co-owner of MQS Barn, Mark Stoltzfus, began his building career with his Amish Mennonite family and applies the same work ethic and expert craftsmanship on every project we do in Wyoming.
Call us today at 855-677-2276, or contact us online to receive a free quote on your next project. We look forward to hearing from you soon!