A new post-frame garage in Montana is an excellent solution if you need a space to park your vehicles, store your belongings, or work. Are you dreaming about building new post-frame steel buildings in Montana but are concerned about the cost? Follow these tips to keep construction costs down. 
Tip #1 – Choose a Good Location
The location of your garage in Montana can dramatically reduce the cost of construction. Consider choosing an area with easy access to utilities such as electricity and water, as this will save you money on setup costs. Select a site that does not require extensive excavation or leveling, if possible.
Tip #2 – Don't Build Your Post-Frame Garage in Montana Too Big
When building on a budget, bigger isn't necessarily better. Aim to build one that is the right size for its intended purpose and no larger. Making sure your garage doesn't have too much extra space can save you money on materials, labor costs, and time.
A well-insulated garage can help reduce your energy consumption. Insulation will increase the initial cost of construction, but it will be worth it later.
Tip #4 – Invest in Quality Materials
Choosing quality materials is another way to save money in the long run. High-grade building materials are more durable and will last longer, meaning you won't have to replace anything soon.
Tip #5 – Don't Skimp on Roofing Materials
A quality roof will protect your post-frame steel buildings in Montana from the elements, help with insulation, and save you money in the long run. Invest in a sturdy metal roof or other reliable material that can withstand harsh Montana weather.
Tip #6 – Take Advantage of Natural Light in Your Post-Frame Garage in Montana
Installing natural light sources, such as skylights or sun tunnels, can reduce your need for electric lighting and therefore save you money on energy costs. Consider these cost-effective solutions to get the most out of your garage day and night.
Tip #7 – Don't Install a Concrete Floor Unless You Need It
Installing a concrete floor is expensive and time-consuming, so it's best to avoid it if you don't need it. If you plan on using your post-frame steel buildings in Montana for parking your cars or storing heavy items, then a concrete floor is necessary. If you just need a space for tools and light storage, then concrete might not be worth the extra cost.
Tip #8 – Consider the Cost of Maintenance
The cost of building ownership is more than just initial construction expenses. You also need to consider the cost of routine building maintenance. This includes regular cleaning and painting, which can be expensive if done by professionals. To save money, consider performing these tasks yourself or hiring someone willing to do them for a lower rate.
Hiring an experienced post-frame barn builder is an excellent way to save money in the long run. A professional will be able to recommend cost-saving solutions and will have extensive experience building garages in Montana's climate.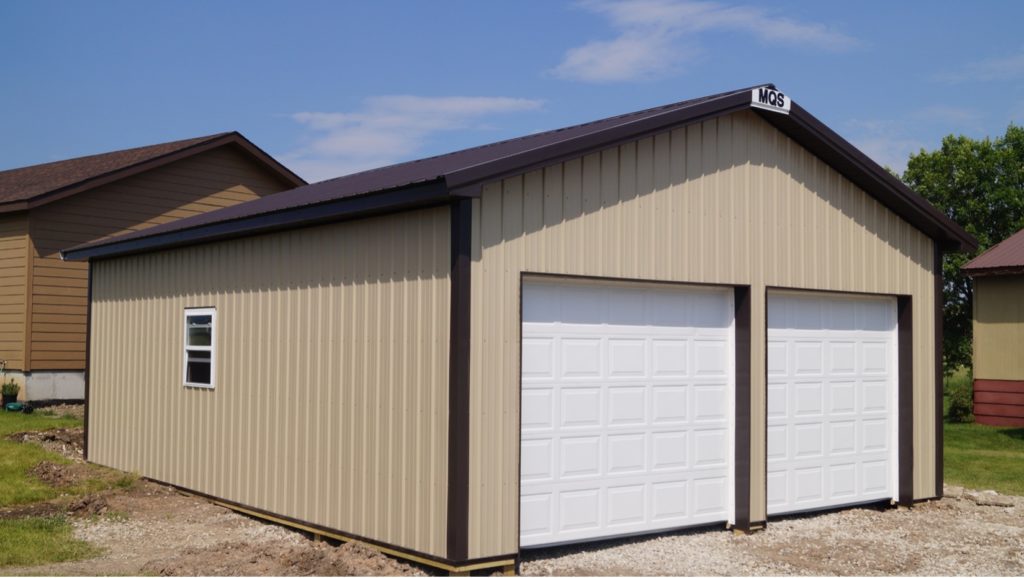 Taking a few extra steps to plan will pay off when you can enjoy the benefits of owning an efficient, cost-effective post-frame garage in Montana for years to come.
We have you covered if you want a new post frame building in Montana. When you are ready to start, our team of professional barn builders can work with you to ensure you get the building you need.
MQS is a family-owned and operated company specializing in post-frame, steel-sided structures, and custom pole barns in Montana. The co-founder and co-owner of MQS Barn, Mark Stoltzfus, began his building career with his Amish Mennonite family and applies the same work ethic and expert craftsmanship on every project we do in Montana.
Call us today at 855-677-2276, or contact us online to receive a free quote on your next project. We look forward to hearing from you soon!