7 Materials and Supplies You May Need When Building a Post Frame Garage in Cody, Wyoming —
Building a post frame garage in Cody is an excellent choice for homeowners. These versatile structures offer durability, affordability, and flexibility in design. However, before embarking on your post frame garage construction project, it's crucial to have a comprehensive understanding of the materials and supplies needed. In this article, we will explore the various components required to build a post frame garage in Cody, Wyoming.
Site Preparation Materials for a Post Frame Garage in Cody
Before starting the construction process, you need to prepare the site. The site preparation materials include:
Excavation Equipment: Depending on the size and complexity of the project, you may require heavy equipment like an excavator or a skid steer loader to clear the land, level the area, and dig footings if needed.
Gravel or Crushed Stone: Gravel or crushed stone is commonly used for creating a stable base for the garage floor and access paths. It provides good drainage and prevents shifting of the foundation.
Geo-textile Fabric: Geo-textile fabric is a permeable material that is placed between the soil and the gravel or crushed stone base. It helps in preventing the mixing of soil particles with the base material, ensuring stability.
Structural Materials for a Post Frame Garage in Cody
The structural materials form the backbone of your post frame garage or pole building in Cody. They include:
Pressure-Treated Posts: Pressure-treated posts are the vertical supports that anchor the garage to the ground. These posts are treated with preservatives to protect them from decay, moisture, and insect damage.
Laminated Columns: Laminated columns are used for larger post frame garages or when additional strength is required. These columns are made by bonding multiple layers of dimensional lumber together, creating a solid and stable support system.
Trusses: Trusses provide the roof structure of your garage. They are typically constructed from engineered lumber and designed to withstand the specific snow loads and wind pressures in Wyoming. Trusses can be customized to accommodate any desired roof pitch or design.
Roofing Materials: The roofing materials for a post frame garage in Wyoming should be chosen with the region's climate in mind. Common options include asphalt shingles, metal roofing, or even composite roofing materials. Ensure that the chosen roofing material meets local building codes and provides adequate protection against wind, snow, and rain.
Wall Girts and Purlins: Wall girts, and purlins are horizontal members that connect the posts and provide support for the exterior walls and roof. They are usually made of lumber or steel and are spaced according to the required load capacity and design specifications.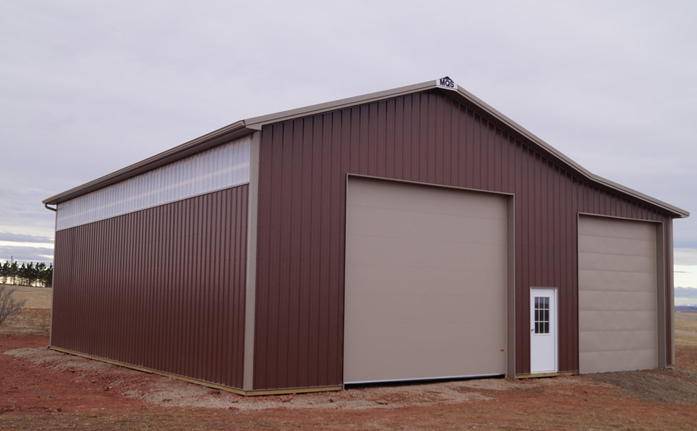 Wall and Siding Materials for a Post Frame Garage in Cody
The choice of wall and siding materials can greatly impact the aesthetics and durability of your post frame garage or pole building in Cody. Consider the following options:
Steel Siding: Steel siding is a popular choice for post frame garages due to its durability and low maintenance requirements. It comes in various profiles, colors, and textures, providing versatility in design.
Vinyl Siding: Vinyl siding is another low-maintenance option that offers a wide range of colors and styles. It is resistant to rot, pests, and fading, making it an excellent choice for Wyoming's climate.
Wood Siding: Wood siding adds a natural and rustic appeal to your garage. It can be installed vertically or horizontally, and various wood species are available, each with its own unique characteristics.
Fiber Cement Siding: Fiber cement siding is a composite material that combines cement, sand, and cellulose fibers. It offers exceptional durability, resistance to rot and pests, and can mimic the look of wood or masonry.
Doors and Windows for Your Post Frame Garage in Cody
Doors and windows play a vital role in the functionality and aesthetics of your pole building in Cody or post frame garage. Consider the following options:
Overhead Doors: Overhead doors provide convenient access for vehicles and equipment and come in various styles, sizes, and materials. Steel sectional doors are popular for their durability and insulation properties, while aluminum doors offer lightweight and corrosion-resistant options. Consider the number of doors needed, their dimensions, and whether you require additional features like windows or insulation.
Entry Doors: Entry doors provide pedestrian access to your garage. Choose a durable and secure door that complements the overall design. Steel, fiberglass, and wood are common materials for entry doors, each offering different levels of insulation, security, and aesthetics.
Windows: Windows not only provide natural light but also enhance the appearance of your garage. Select windows that are energy-efficient, easy to maintain, and suitable for the Wyoming climate. Consider their size, placement, and whether you need them to open for ventilation.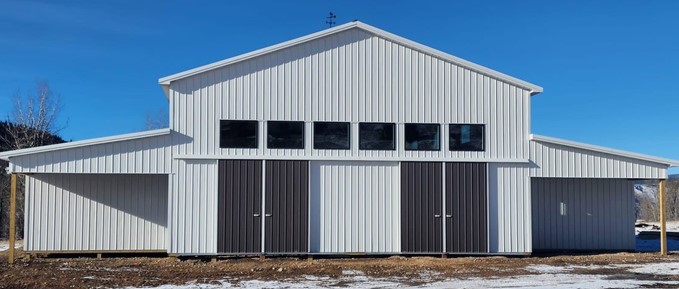 Installing Insulation and a Vapor Barrier for a Post Frame Garage in Cody
Insulation is crucial for maintaining a comfortable temperature inside your post frame garage and reducing energy costs. Additionally, a vapor barrier helps prevent moisture buildup and protects the structure. Consider the following insulation and vapor barrier materials:
Insulation: There are several insulation options available, including fiberglass batt, rigid foam boards, and spray foam insulation. Each has its own advantages and considerations, such as R-value (thermal resistance), moisture resistance, and installation requirements. Consult local building codes and energy efficiency guidelines to determine the appropriate insulation for your garage.
Vapor Barrier: A vapor barrier is typically a plastic or foil sheet that prevents moisture from penetrating into the insulation and the structure. It is installed on the warm side of the insulation to minimize condensation and moisture-related issues.
Electrical and Lighting Materials for a Post Frame Garage in Cody
To make your post frame garage or pole building in Cody functional and efficient, you'll need electrical and lighting materials, like:
Wiring and Electrical Components: This includes electrical wiring, outlets, switches, circuit breakers, and other necessary electrical components. Hire a licensed electrician to ensure compliance with local codes and safety standards.
Lighting Fixtures: Install appropriate lighting fixtures for both interior and exterior areas. LED lights are energy-efficient and provide bright illumination, making them a popular choice.
Interior Finishes and Storage Solutions for Your Post Frame Garage in Cody
Consider the interior finishes and storage solutions that best suit your needs and the needs of your pole building in Cody. This may include:
Wall Finishes: Choose interior wall finishes that are durable, easy to clean, and enhance the aesthetics of your garage. Options include drywall, plywood, metal panels, or a combination of materials.
Flooring: Depending on your preferences and budget, various flooring options are available, such as concrete, epoxy coatings, tiles, or even rubber flooring. Consider factors like durability, ease of maintenance, and resistance to oil and chemical spills.
Storage Solutions: Plan for storage solutions like shelving units, cabinets, and workbenches to maximize the functionality and organization of your garage.
In conclusion, building a post frame garage in Cody requires careful consideration of the materials and supplies needed. From site preparation materials to structural components, wall and siding materials, doors and windows, insulation and vapor barrier, electrical and lighting materials, and interior finishes, each element contributes to the overall functionality, durability, and aesthetics of your garage.
Take into account local building codes, energy efficiency requirements, and the unique challenges posed by Wyoming's climate. Consulting with professionals and experienced contractors will ensure a successful and satisfying construction process for your post frame garage or pole building in Cody.
MQS Barn – We Build Custom Pole Barns in Cody
MQS is a family-owned and operated company specializing in post-frame, steel-sided structures, and custom post-frame buildings. We have you covered if you need custom horse barn builders in Cody. When you are ready to start, we can work with you to ensure you get the building you need. We have constructed countless pole barns, garages, and post frame buildings throughout Idaho, Wyoming, Montana, and Washington. Let us add you to our list of highly satisfied customers!
Are you looking for Amish barn builders in Cody? The co-founder and co-owner of MQS Barn, Mark Stoltzfus, began his building career with his Amish Mennonite family and applies the same work ethic and expert craftsmanship on every project we do. We can build the perfect structure to fit your every need.
Call us today at 406-642-9600, or contact us online to receive a free quote on your next project. We look forward to hearing from you soon!