Your new post frame garage in Chewelah is only as functional as you make it. After their building is complete, many owners choose to add shelving, workbenches, and other custom storage features. If you need a new workbench for your pole building shop in Chewelah, follow these tips.
Tip #1 – Design a Workbench in Your Garage in Chewelah Specific to Your Needs:
The first step in building a workbench is determining what projects you'll be working on and what tools will be necessary. This will help inform the design of your bench, including its size, storage options, and other features. You'll need additional space if you plan to do woodworking or other craft projects in your post-frame garage in Chewelah. Consider how much storage space you need, where each tool will be used, and what features would make your workbench most efficient.
Tip #2 – Choose the Right Materials:
Once you've determined the design of your bench, it's time to choose the materials. You'll want to use durable, long-lasting materials that can withstand heavy use and wear and tear. Plywood is an excellent option, as it's both strong and affordable. Consider using hardwoods such as oak or mahogany for a stronger workbench if you plan on doing heavier projects.
Tip #3 – Find a Sturdy Base:
The foundation of your workbench should be a sturdy base made of either wood or metal. A wooden base will provide more stability and is better for working with heavier materials, whereas metal bases are lighter and easier to move around if needed.
Tip #4 – Consider Storage Solutions:
When designing your workbench, think about how you'll store your tools and materials. Shelves or drawers can provide easy access to frequently used items. Consider adding hooks or wall-mounted storage solutions if you use larger tools such as saws, drills, or sanders.
Tip #5 – Install a Protective Layer:
Install a protective layer of plywood or plastic laminate on the surface to protect your workbench top from scratches and wear. This will also help to prevent splintering if you use woodworking tools on your bench.
Tip #6 – Add Visible Markings:
For measurements when cutting materials, use a ruler and a pencil to draw visible markings on your workbench top. This will help you accurately line up pieces of wood or other materials for projects. You can also install a small level on the surface to ensure the boards and pieces are even.
Tip #7 – Add Convenient Accessories:
When setting up your workbench inside your garage in Chewelah, consider adding accessories such as clamps, vise grips, and other tools that will be used most often. You can also purchase a bench grinder or belt sander to sharpen tools or finish projects.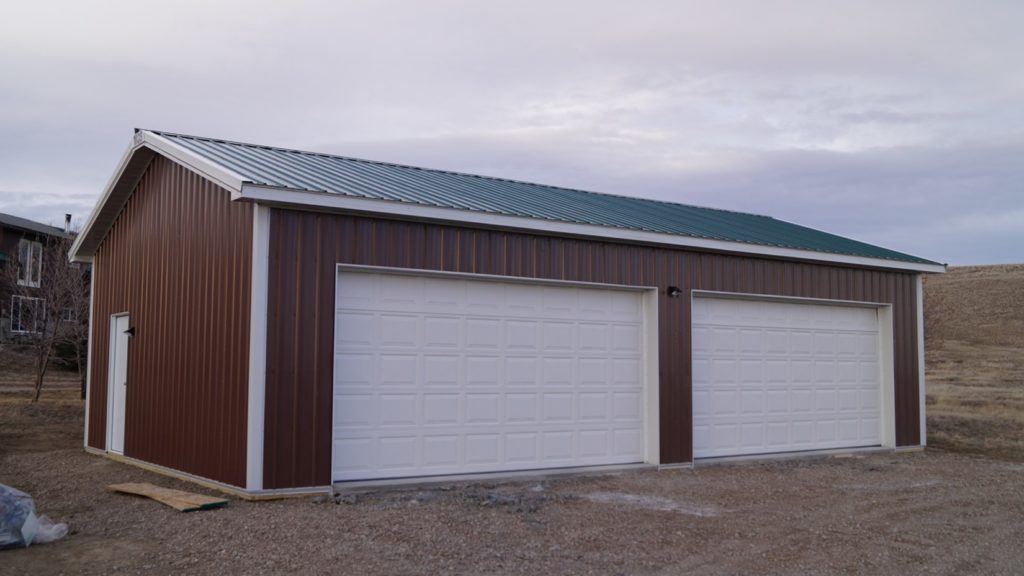 Tip #8 – Utilize Wall Space in Your Garage in Chewelah:
Remember to make use of the wall space in your garage. You can install pegboards or shelving units on the walls to store larger items such as power tools and supplies. This will free up more room on your workbench and help keep tools organized.
Tip #9 – Keep Your Post-Frame Garage in Chewelah Organized
Organization is vital when tackling any project in your garage hobby shop in Chewelah. Have a designated space for each tool, and make sure everything is put away when not in use. This will help you find the items quickly when needed and prevent clutter from accumulating on your workbench.
Tip #10 – Have Fun
Finally, remember to have some fun while building your workbench and tackling projects in your new garage in Chewelah! Workbenches can be great investments that pay off over time. With the tips above, you'll have a sturdy and efficient workbench that will serve you for years.
MQS Barn – We Can Build Your New Metal Buildings in Chewelah
MQS is a family-owned and operated company specializing in post-frame, steel-sided structures, and custom steel buildings in Chewelah. We have you covered if you need a new pole building shop in Chewelah. When you are ready to start, we can work with you to ensure you get the building you need.
Are you looking for Amish barn builders in Chewelah? The co-founder and co-owner of MQS Barn, Mark Stoltzfus, began his building career with his Amish Mennonite family and applies the same work ethic and expert craftsmanship on every project we do.
Call us today at 855-677-2276, or contact us online to receive a free quote on your next project. We look forward to hearing from you soon!