Post frame metal buildings in Montana are used for many purposes. Do you need a place to park your vehicles or a barn for your agricultural business? Follow these tips to build a sturdy pole building in Montana you can rely upon year-round.
Tip #1 – Choose the Right Location for Your Metal Buildings in Montana
Location is important when building any structure, especially post-frame metal buildings in Montana. Make sure the location is free from flooding, has adequate drainage, and is on level ground with minimal slope to ensure a sturdy foundation for your structure.
Tip #2 – Know Your Local Building Codes
When constructing a post-frame metal building in Montana, it's important to know local building codes. Make sure the structure is built according to local and state regulations for safety reasons. Contact your local authorities if you need help understanding the building codes in your area.
Tip #3 – Use Quality Materials for Your Metal Buildings in Montana
Using quality materials is essential when constructing post-frame metal buildings in Montana. Investing in a steel frame, strong foundation, and durable roof will ensure the longevity of your structure. When ordering materials, be sure to get enough for any contingencies, such as weather delays or damage caused by wildlife or other environmental factors.
Tip #4 – Work with an Experienced Professional
It's best to hire an experienced contractor to help your new post frame building in Montana. A professional will not only know the local building codes but also be able to advise you on which materials are best for your particular project and provide tips for ensuring the structure is built correctly.
Tip #5 – Use Insulation
Proper insulation is vital for post-frame steel buildings in Montana, especially for those that will be used for housing livestock or other animals. Insulation protects the inhabitants from extreme temperatures and helps maintain a comfortable climate year-round.
Tip #6 – Install Good Ventilation in Your Metal Buildings in Montana
Good ventilation is essential for any structure to prevent mold and mildew and improve fresh air circulation. Make sure your post-frame metal building in Montana is equipped with the necessary ventilation systems, such as louvers, windows, and doors, to allow for proper airflow.
Tip #7 – Invest in a Quality Roof System
A high-quality roof system is essential for any structure to protect it from harsh weather conditions. When purchasing a roof for a post-frame metal building in Montana, make sure it is designed to withstand heavy snowfall and strong winds – common weather phenomena in the region.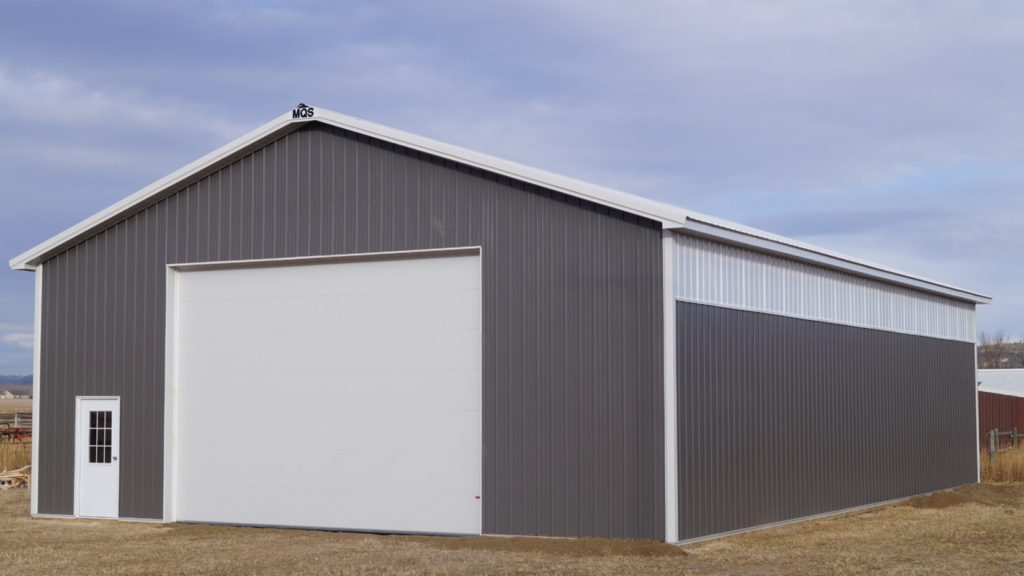 Tip #8 – Secure Your Building Against Intruders
A post-frame metal building in Montana is susceptible to theft and vandalism if not adequately secured. Make sure all doors and windows are locked, and install security systems, cameras, or other devices to deter potential intruders.
Tip #9 – Regularly Inspect Your Metal Buildings in Montana
The durability of post-frame agricultural buildings in Montana depends on regular maintenance and inspections. Have your structure checked for structural damage, water penetration, and other issues at least once every year. This will help prevent long-term damage and keep your building in excellent condition.
By following these tips, you can be sure to construct a sturdy post-frame metal building in Montana that will last for many years. With the help of experienced professionals, quality materials, and regular inspections, you'll have an attractive and secure structure that meets all your needs.
MQS Barn – We Can Build Your New Steel Buildings in Montana
We have you covered if you want new custom pole barns in Montana. When you are ready to start, our team of professional barn builders can work with you to ensure you get the building you need.
MQS is a family-owned and operated company specializing in post-frame, steel-sided structures, and custom metal buildings in Montana. The co-founder and co-owner of MQS Barn, Mark Stoltzfus, began his building career with his Amish Mennonite family and applies the same work ethic and expert craftsmanship on every project we do.
Call us today at 855-677-2276, or contact us online to receive a free quote on your next project. We look forward to hearing from you soon!