Farm buildings in Spokane are used for many different purposes. As custom post frame builders in Spokane, we love building custom pole barns in Spokane. Here are six of our favorite kinds of barns and farm buildings.
#1 – Custom Horse Barns
When you think of farm buildings in Spokane, these are likely the first ones that come to mind. Horse barns provide a haven for horses and other animals while also offering convenient storage and workspaces. Custom horse barns can be tailored to your needs and preferences, ensuring they are uniquely suited to your property.
For those in the dairy industry, having a barn built explicitly for milking and storing milk can be incredibly helpful. Dairy barns help to promote cleaner production of milk, as well as better efficiency when it comes to the labor involved in the process.
#3 – Hay Barns – Fram Buildings in Spokane
For those who are looking to store large amounts of hay, a hay barn is an ideal solution. Hay barns provide plenty of space to store bales of hay while also protecting them from the elements. They are also designed with ventilation in mind, allowing fresh air to circulate and help keep the hay dry.
#4 – Run-In Shelters
Run-in shelters are excellent farm buildings in Spokane and great for providing extra protection from the elements and allowing animals to stay comfortable. These types of farm buildings come in a wide variety of sizes and configurations, making them suitable for any number of purposes.
Do you need a new post-frame garage in Spokane? Contact us today!
#5 – Farmhouses
Farmhouses, while not technically farm buildings in Spokane, are still an important part of the overall landscape. These homes provide farmers and their families with a comfortable place to live and work. They also provide a beautiful and inviting atmosphere for visitors to enjoy.
#6 – Brooder Barns – Farm Buildings in Spokane
A brooder barn is essential for those in the poultry industry. These buildings provide a safe and comfortable environment for raising chicks and protecting them from predators. They also help keep the birds warm and dry, ensuring they grow healthy and happy.
#7 – Workshops
Workshops are essential for farmers who need space to repair and maintain equipment. These post-frame steel buildings in Spokane provide a secure and well-ventilated area that can be used for various tasks, from fixing tractors to building gazebos.
#8 – Equipment Storage Sheds
When it comes to farm buildings in Spokane, equipment storage sheds are often overlooked. However, these structures provide a great way to store and protect expensive machinery from the elements. They also help keep the farmyard organized and tidy, making it easier to find what you're looking for when needed.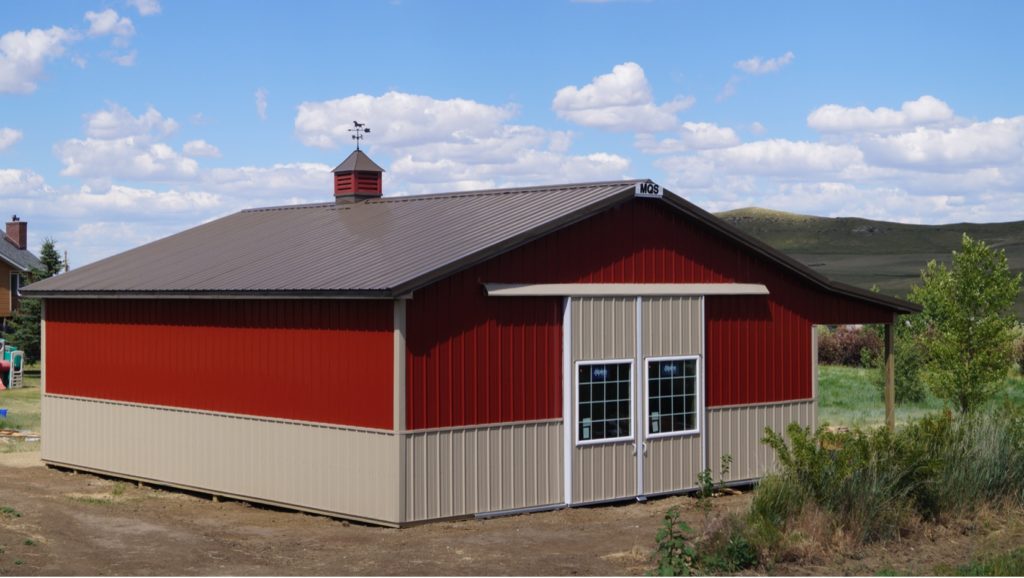 #9 – Chicken Coops – Farm Buildings in Spokane
For those who own chickens, having a secure and comfortable place for them to live is essential. Chicken coops provide the perfect space for keeping chickens safe and healthy while also preventing predators from getting in. They come in various shapes and sizes so that you can find one suitable for your needs.
We have you covered if you want a barn or custom post-frame metal buildings in Spokane. When you are ready to start, we can work with you to ensure you get the building you need. MQS is a family-owned and operated company specializing in post-frame, steel-sided structures, and custom post-frame metal buildings. The co-founder and co-owner of MQS Barn, Mark Stoltzfus, began his building career with his Amish Mennonite family and applies the same work ethic and expert craftsmanship on every project we do in Spokane.
Call us today at 855-677-2276, or contact us online to receive a free quote on your next project. We look forward to hearing from you soon!