7 Reasons to Choose Post-Frame Steel Buildings in Chewelah for Your Farm
Post-frame steel buildings in Chewelah are the best option available when you need new agricultural buildings in Chewelah. It is no secret that farmers have chosen post-frame construction for their barns and other buildings for generations. Consider the following reasons why you should too.
Post-frame metal buildings in Chewelah are significantly more affordable than other construction designs, making them an attractive option for farms and agricultural businesses with limited budgets. In addition to being cost-effective, post-frame steel buildings can be built quickly and efficiently, reducing construction costs.
#2 – They Are Durable
Steel buildings in Chewelah are highly durable, making them ideal for use in challenging climates and conditions. The post-frame structure is built with laminated wood posts, which provide a strong foundation and support system that won't buckle under heavy snow or wind loads. This ensures your pole barn or garage hobby shop in Chewelah can withstand even the harshest weather conditions without compromising structural integrity.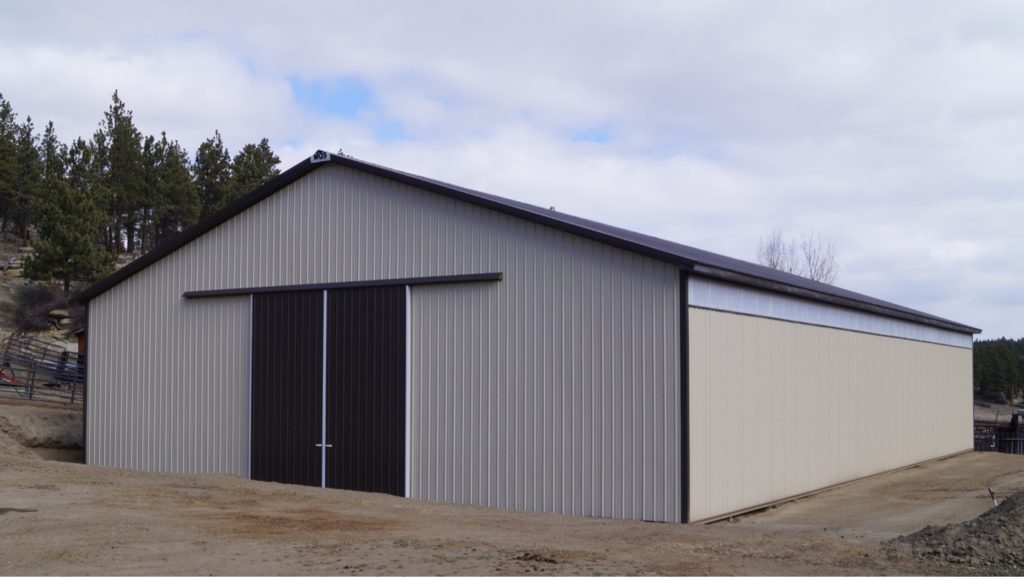 #3 – They Are Versatile
Post-frame steel buildings in Chewelah can be customized to accommodate any size and shape of structure desired, from simple post-frame sheds to large post-frame shops. This makes post-frame steel buildings the perfect choice for agricultural applications, as they can easily be adapted to suit any specific farm needs or requirements.
#4 – Wide-Open Interior Spaces
Post-frame buildings offer wide-open interior spaces that are perfect for agricultural needs. Post-frame construction is designed to provide ample, open space with minimal structural support columns, allowing for easy access and plenty of room for equipment and storage.
#5 – Flexible Flooring Options
Post-frame steel buildings in Chewelah are also highly versatile regarding flooring options. Choose a dirt floor if you are keeping animals inside. Choose for extra durability, low moisture retention, and cleanliness. This makes post-frame buildings ideal for farms and agricultural businesses needing maximum flexibility.
#6 – Energy-Efficient Design Options
Post-frame buildings can also be designed with energy efficiency in mind. Post-frame construction accommodates insulation options that reduce the transfer of heat and cold while still providing a comfortable interior space. This can help you save money on your energy bills while creating a pleasant environment for workers and animals alike.
#7 – Fast Construction
Post-frame buildings are also surprisingly fast to construct. They can be erected in a fraction of the time it would take to build other structures. This makes post-frame buildings an excellent choice for busy farms that may not have the time or resources to wait.
MQS is a family-owned and operated company specializing in post-frame, steel-sided structures, and custom post-frame buildings. We have you covered if you need a new post frame building in Chewelah. When you are ready to start, we can work with you to ensure you get the building you need.
Are you looking for Amish barn builders in Chewelah? The co-founder and co-owner of MQS Barn, Mark Stoltzfus, began his building career with his Amish Mennonite family and applies the same work ethic and expert craftsmanship on every project we do.
Call us today at 855-677-2276, or contact us online to receive a free quote on your next project. We look forward to hearing from you soon!