Building a boat storage shed can be an expensive and labor-intensive proposition, but using steel buildings in Billings is a much easier way to ensure your boat is safe and secure. Not only are post frame steel buildings relatively easy to set up, but they are also highly customizable to suit the needs of any size or type of boat.
Benefits of Steel Buildings in Billings for Boat Storage
Post frame metal buildings in Billings offer several advantages over traditional wooden sheds when it comes to storing boats. First, they are extremely durable and weather-resistant, meaning they will protect your boat from wind, rain, hail, snow, and other elements that could damage whatever is inside. This makes them perfect for areas where extreme weather conditions might impact your boat storage needs.
Second, steel and metal buildings provide excellent insulation from heat and cold temperatures. This helps keep both your boat and its accessories in good condition during all seasons. Lastly, since most steel buildings come with ample wall space for hanging tools and fixtures like anchors, outriggers, and trailer components, you'll have plenty of room to store everything you need for boating safely and conveniently.
Size & Style Options for Steel Buildings in Billings
When it comes to choosing the right steel building for your boat storage needs there are many options available. Small single-stall garages are great if you just need a place to park one small vessel, while larger multi-stall models provide ample space for multiple boats.
These structures are also great for other recreational vehicles such as ATVs or jet skis. You can also find custom designs along with numerous paneling options that allow you to modify the interior or exterior look of your metal buildings in Billings, according to your own personal tastes.
No matter what size or style you choose, all steel buildings in Billings come with quality features like heavy-duty steel construction that provides superior protection against wind loading as well as solid roofing materials that will help keep water out during storms. They also feature multiple bay doors so you can easily access different areas of the garage should you need it.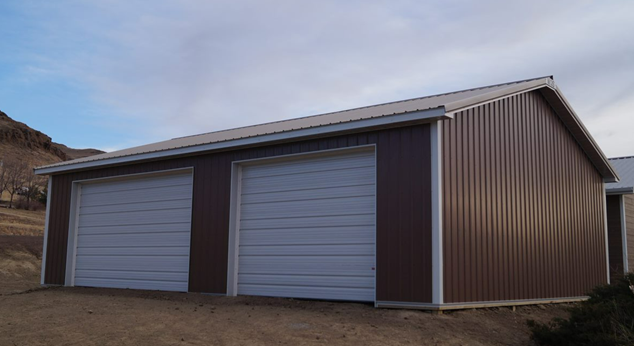 Setting Up Your Steel Buildings in Billings for Boat Storage
Once you've chosen the perfect post frame building for your needs, there's still some work ahead before your boat can move in! Before installation begins, be sure to check local zoning regulations regarding placement on your property as well as any codes regarding structural requirements such as footings needed for larger models.
Consider adding side walls or even air conditioning units depending on what climate you live in. You may also want to install a ventilation system which not only help protect against mold growth but also reduces interior temperatures so that the temperature fluctuations don't harm your boat. Last but not least, be sure to use weatherproof coatings on exposed steel surfaces after your metal buildings in Billings are constructed in order to ensure maximum protection against corrosion over time.
With these steps taken care of though all that's left after installation is stocking up on supplies such as cleaning products bleach, rope, gear holders, engine flush kits, gasoline containers, etc., so that when boating season arrives, you'll be ready!
MQS Barn – We Can Build Your New Custom Pole Barns in Billings
MQS is a family-owned and operated company specializing in post-frame, steel-sided structures, and custom post-frame buildings. We have you covered if you need custom horse barn builders in Billings. When you are ready to start, we can work with you to ensure you get the building you need.
Are you looking for Amish barn builders in Billings? The co-founder and co-owner of MQS Barn, Mark Stoltzfus, began his building career with his Amish Mennonite family and applies the same work ethic and expert craftsmanship on every project we do.
Call us today at 406-642-9600, or contact us online to receive a free quote on your next project. We look forward to hearing from you soon!