Post-frame metal buildings in Montana are popular for many good reasons. They are strong, weather resistant, affordable, and can be used for a myriad of purposes. Horse barns are one of the most popular uses of post-frame metal buildings. Custom horse barn builders in Montana often prefer post-frame construction because it allows for excellent ventilation and insulation.
If you are hoping to build a new horse barn or post-frame metal buildings in Montana, consider including these design elements.
Dutch Doors
Dutch doors are often installed in horse barns on the outside wall of individual horse stalls. They resemble standard hinged doors except that they are split in the middle horizontally. This division allows the lower half of the door to remain closed and the upper half to be opened to allow daylight and fresh air inside.
Cupolas
Cupolas are a traditional feature of classic American agricultural buildings, especially horse stables. Cupolas resemble small, short towers on the roof ridge. They are used primarily for ventilation but are occasionally installed for purely aesthetic reasons. If you want to build a traditionally-styled barn, consider including at least one cupola and a wind vane.
Are you searching for experienced custom horse barn builders in Montana? Call MQS today!
Wide Aisles
Wide aisles and high ceilings are practically required if you plan to build a luxury horse barn but are desirable for even a simple barn. Ample aisle space allows riders to ride in an out of the barn and for two riders to pass each other comfortably. Metal buildings in Montana are surprisingly affordable, and the additional materials required to widen aisles may cost less than you think.
Wash Stall
Horses don't need to be bathed every day, but regular bathing will ensure they maintain a shiny, clean coat. Consider adding an interior bathing stall with a hose nib and an efficient drainage system to your new horse barn. Wash stalls in metal buildings in Montana are particularly convenient on cold and windy days.
Enclosed Tack Rooms
Saddles, blankets, bridles, halters, and other tack have to go somewhere when they aren't in use. Keep your gear clean and ready to go by storing it in an enclosed tack room. If you have high-dollar equipment, install a sturdy door and a good lock. Proper care and storage will ensure your tack lasts for years and doesn't fail when you need it most.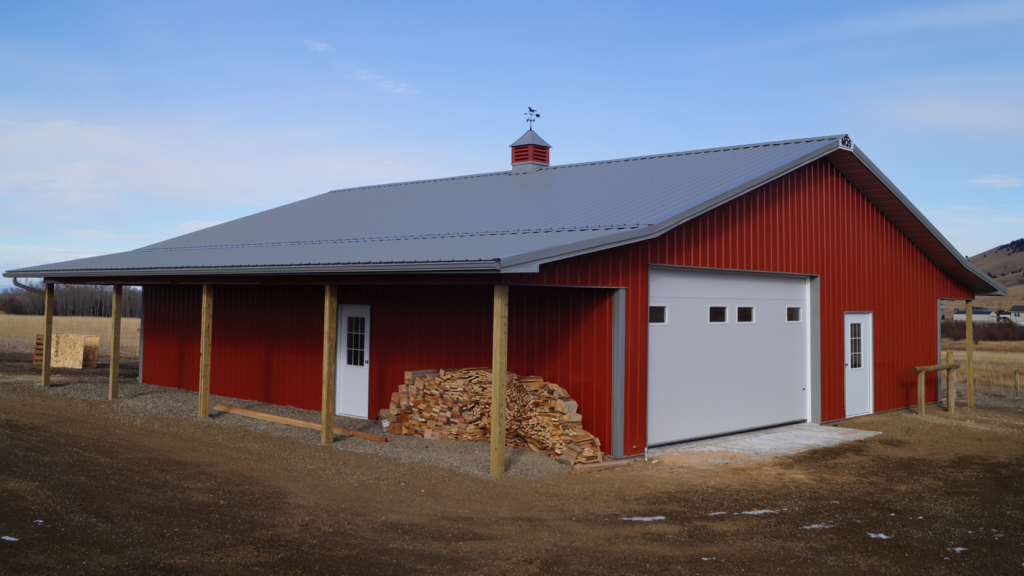 MQS Barn – We Can Build Your New Metal Buildings in Montana
We have you covered if you are interested in farm buildings in Montana or a pole building shop in Montana. When you are ready to start, we can work with you to ensure you get the pole building in Montana you need.
MQS is a family-owned and operated company specializing in post-frame, steel-sided structures, and custom steel buildings in Montana. The co-founder and co-owner of MQS Barn, Mark Stoltzfus, began his building career with his Amish Mennonite family and applies the same work ethic and expert craftsmanship on every project we do.
Call us today at 855-677-2276, or contact us online to receive a free quote on your next project. We look forward to hearing from you soon!